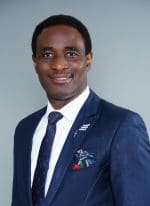 Niyi Dunmade is the CEO/Lead Consultant of Magnicraft Consulting Limited, one of the leading church and denominational consulting establishments in Nigeria;  offering consultations that range from analysis off-site, one-day visit, multi-month, and multi-year contracts.
He is Ordained since December 2001, and is currently a serving Pastor with The Transforming Abuja. Niyi is also a Certified Church Consultant with the Society of Church Consulting in the United State of America, a Certified Administrator with Church Administrators' Society Of Nigeria (CASON) & a Chartered Manager with Nigerian Institute Of Management (NIM), and has over 20 years of experience. He is well known as a process freak, structured and principled Pastor.
Pastor 'Niyi Dunmade is a graduate of Chemical Engineering from the University of Lagos. Notwithstanding, he built his experience and training capacity with proficiencies in Human Resource Management, Project Management, Database Management, Monitoring & Evaluation, Process Optimisation, Church Administration, Operations, Management, etc.
He is married to his lovely wife, Ruth, and the union is blessed with three precious children: Israel, Nichelle & Ivanna.