Are the trends reversing? Could younger people return to church in greater numbers? Perhaps. It's too early to tell, but one researcher gives a little hope. Ryan Burge reported on data indicating Gen Z is more likely to attend church than Millennials and Gen X. While almost a third of this younger generation does not claim a particular religion (the "nones"), they attend religious services at a slightly higher rate than their Millennial and Gen X parents.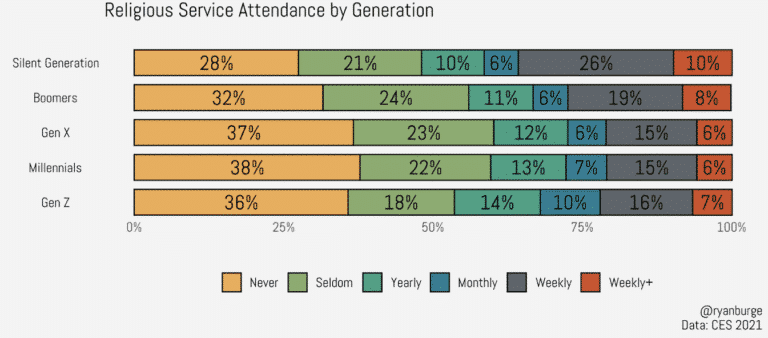 More research is needed as this data could be an aberration. Two caveats are in order. First, Gen Z religious attendance has been trending down, not up. Second, not every member of Gen Z is included in this data as some are too young to be present in the measurements. One data point does not make a trend, but this one is worth watching over the next few years.
At Church Answers, we wanted to know more. So we asked a Gen Zer his thoughts. This video is the second installment of a three-part Church Answers YouTube series on Gen Z. Check out our channel to see the other videos.
Posted on April 19, 2023
---
As President of Church Answers, Sam Rainer wears many hats. From podcast co-host to full-time Pastor at West Bradenton Baptist Church, Sam's heart for ministry and revitalization are evident in all he does.
More from Sam