Podcast Episode #406
Listener questions are always fun to answer. Today we cover a wide-ranging group of topics and answer several pressing questions from listeners.
Some highlights from today's episode include:
Do I see all denominations dying? No. But we are seeing more struggling.
When you study Scripture, it's difficult to argue against a plurality of leadership.
Good financial stewardship should be a requirement for church leadership.
Co-vocational ministry is the future mainly because of its effectiveness.
The listener questions we answer are:
FROM PAM:
On podcast 390 you mentioned the rise of networks. I would like some detail about various networks and how they are utilized for the strength and growth of the Church.
FROM DAN:
I see in the Scriptures that the early church was led by a plurality of elders. There seemed to be no "senior pastors" in the early local churches. In your opinion, must a church have a senior pastor? If so, should that person have greater influence over other pastors/elders? What are the benefits and drawbacks of equally shared authority and influence shared among a plurality of elders in a local church?
FROM JEREMY:
The treasurer at the church I pastor at recently told me that one of the members of our finance committee does not give financially to the church. What do you do in a situation like this? How do you avoid this from happening in the first place?
FROM TODD:
If my church is in a small, rural town with other small towns 15 minutes down the road, is having multiple sites in other towns a good idea and how far from the home site do you go?
FROM JASON:
We struggle, like many churches do, to get our guests to acknowledge that they are visiting using our communication cards. What are some other ways that we can connect with these guests? We recently started using greeters in the sanctuary which has helped some, but we are still missing large amounts of guests.
FROM MATTHEW:
As a bi-vocational pastor, I often get asked the question, "So when are you moving to full-time ministry?" It even happens in my church from time to time, where well-meaning members tell me, "Well, Lord willing we'll be able to get you full-time on the field someday." Often, bi-vocational ministry is looked upon as something to try and escape, or as a steppingstone to a "real" pastorate, rather than being valued as a dual calling. I feel a distinct call to bi-vocational ministry. I am a pastor and a public school teacher, and I feel convinced that God has placed me in both situations. My question is, why do Christians and pastors downplay the value of bi-vocational ministry?
---
Episode Sponsors
Our friends at Vanderbloemen Search Group help churches and ministries build great teams by finding their key staff, but did you know they have a ton of resources around team building? Their newest addition is The Culture Tool, a free comprehensive staff engagement survey to help you build, run, and keep a great team. It's brand new and still in beta, so check out TheCultureTool.com to be on the cutting edge of this new tool that will help you improve your church staff culture.
Visit TheCultureTool.com to learn more.
---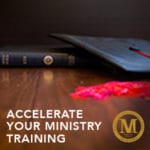 Midwestern Seminary is interested in helping you get to the field faster. And they're serious about training leaders for the church. That's why they've created the all-new Accelerate Program. In Midwestern's Accelerate Program, students earn both Bachelor of Arts degree and Master of Divinity degree in just 5 years of intensive study. That's a B.A. and an M.Div. at the same time. This innovative residential program combines rigorous academic training with practical ministry preparation, resulting in one of the most effective programs around, so that you can pursue your ministry calling as soon as possible.
Two degrees in five years – all in one program: Accelerate at Midwestern Seminary. Take the next step by visiting mbts.edu/accelerate.
---
Feedback
If you have a question you would like answered on the show, fill out the form on the podcast page here on Church Answers.
---
Resources Mentioned in Today's Podcast