I had no idea he was a former pastor.
He emailed me on a business matter. I noticed his email said nothing about his ministry, so I asked about his ministry in my response.
"I am out of the pastorate," he responded. "And I have no plans to ever go back."
From my perspective, this man would have been one of the least likely to leave the pastorate. Not only did he leave, he is adamant he will not return.
LifeWay Research recently released a study about pastors who left the pastorate before they were retirement age. You can read more about the study here, but I want us to look at six key issues from the study that are vitally important.
Nearly half (48%) of those who left the pastorate said the search committee did not accurately represent the church. I have heard this information anecdotally, but I did not expect the response to be this high.
More than half (54%) of the respondents said a church member had attacked them personally. Consequently, one of four said they left the church because of conflict.
Nearly half (48%) of the former pastors said they had not been trained for relational and leadership issues. We hear this from current pastors and staff as well.
Four in ten of those who left the pastorate said they had a change in calling. We hope to delve into this issue later.
One in eight of the former pastors left for financial reasons. Many pastors are underpaid. Many pastors leave the pastorate as a consequence.
One in eight of the respondents left because of family issues. Again, we have covered this issue several times at the blog and on the podcast.
How do we respond to these issues? How can we be greater supporters of our pastors and staff so they don't feel like they have to leave the church? Let me hear your thoughts.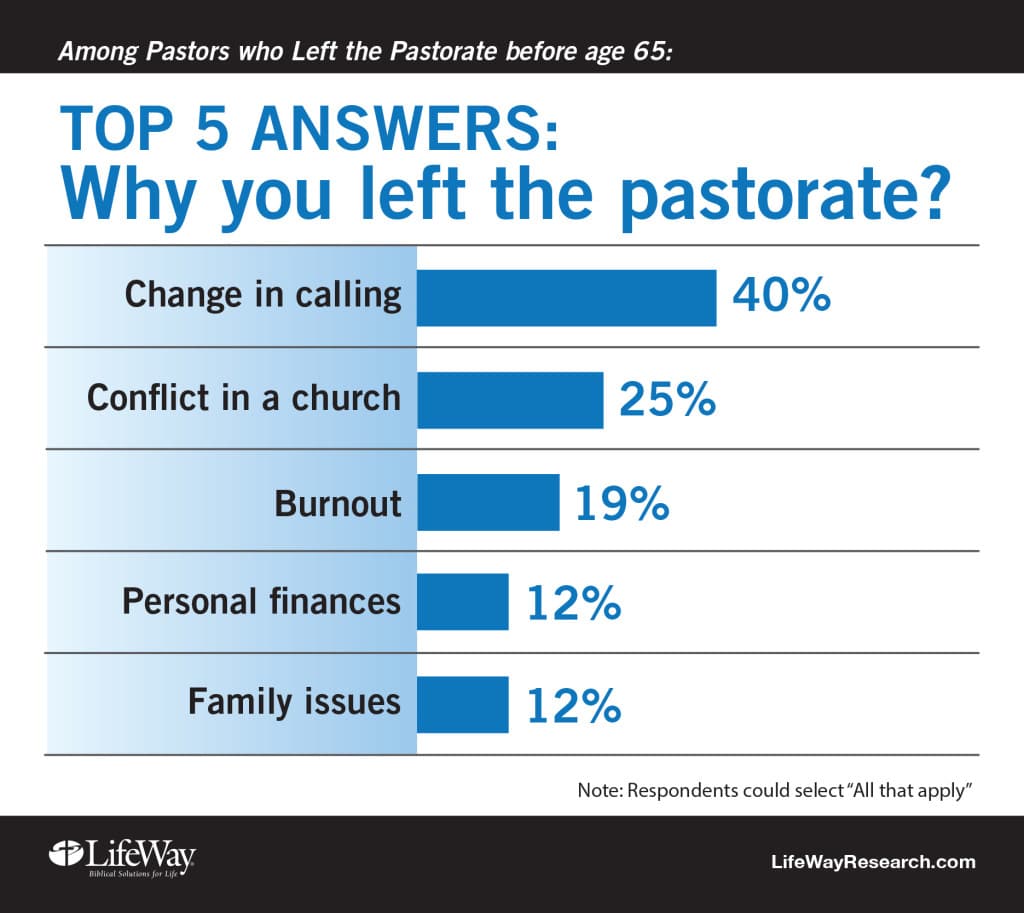 Methodology:
The online survey of former senior pastors was conducted Aug. 11-Oct. 2, 2015. The sample lists were provided by four Protestant denominations: Assemblies of God, Church of the Nazarene, The Lutheran Church—Missouri Synod, and Southern Baptist Convention. Each survey was completed by an individual who has served as a senior (or sole) pastor but stopped serving as senior pastor prior to age 65. The completed sample is 734 former pastors. The study was sponsored by the North American Mission Board and Richard Dockins, M.D.
Posted on January 13, 2016
---
With nearly 40 years of ministry experience, Thom Rainer has spent a lifetime committed to the growth and health of local churches across North America.
More from Thom